Demand Management
The most significant demand-side savings opportunities come from determining and then delivering the best air pressure and airflow rate at which each plant sector can operate for optimum production.
Many compressed air systems run at a higher pressure than is required by the processes they serve. A rule of thumb is that every decrease of 1 bar equates to an estimated seven percent decrease in energy consumption.
Determine the actual pressure requirements of your system and adjust your system accordingly. A larger receiver tank may allow your compressor to operate at lower pressures.
Pressure transducers are installed to monitor and record the pressure maintained in the plant air system.
These transducers can monitor the rate of pressure change in the system so that coordination of the most efficient compressor arrangement to support system demand can be achieved.
Sigma Sensing has a wide range of pressure transducers available that meet these monitoring and control requirements.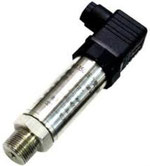 4003 the economical series
Thick Film Strain Gauge Technology
Pressure ranges from 0-500mbar to 0-700bar
Output Options 0-2mV/V, 0-5Vdc, 0-10Vdc and 4-20mA
Accuracy 0.40% NLHR
All Stainless Steel Construction

The 4003 series of general-purpose pressure transducers is designed for applications where economical price and reliable pressure measurement is required. Incorporating bonded strain gauge technology and utilising unique manufacturing techniques

Constructed from stainless steel with 17/4PH stainless steel diaphragm for ranges above 20bar, and a ceramic diaphragm for lower ranges, the 4003 series of transducers are of a robust yet compact design with accuracy of 0.40% NLHR.

Available in pressure ranges from 0-0.5bar to 0-700bar, gauge or absolute and electrical outputs 0-2mV/V, 0-5Vdc, 0-10Vdc and 4-20mA (two wire).

Applications include the continuous monitoring of oil, gas, water and other liquids in a wide range of industries.
4200 series for demanding applications


Silicon Saphire Sensor Technology
Pressure ranges from 0-500mbar to 0-1500bar
±0.25% accuracy NLHR
4-20 mA output as standard (0-100mV, 0-5Vdc or 0-10Vdc optiona)
Optional ATEX approved version (4-20mA only)
Outstanding Performance and Stability

The 4200 pressure transmitter is designed to meet the operational requirements of demanding pressure measurement applications where good quality is of the highest priority.

The unique Silicon-on-Sapphire sensor technology provides outstanding performance and gives excellent stability over a wide temperature range. The advanced sensor design consists of a piezoresistive silicon strain gauge circuit, which is epitaxially grown onto the surface of a sapphire diaphragm to form a single crystalline structure. The sapphire sensor element is then molecularly bonded to a titanium alloy sub-diaphragm. This enables the sensor to endure higher over- pressures and provides superb corrosion resistance. The completed sensor exhibits virtually no hysteresis and excellent long-term stability. With outstanding insulation properties, the sapphire substrate allows the sensor to operate over a very wide temperature range without loss of performance.

Accuracy is ±0.25% with an over pressure limit of twice the rated pressure range, this together with the standard output of 4-20 mA and easy access for re-calibration affirm the excellent design. All models are supplied with integral 1/4"BSP or pressure connections. Optional electrical connections are available. The all titanium alloy wetted parts offer unbeatable corrosion resistance. Versions are also available offering IP66 sealing for installations requiring high levels of environmental protection.

An optional ATEX certified version of this product is available approved for explosion protection for flammable gases (zone 0), dusts (zone 20) and mining areas (group I M1).

Applications for the 4200 include the continuous monitoring of hydraulic systems with oil, gas, water and other process liquids, industrial, medical and aerospace industries. Also ideal for the measurement and control of pressure in refrigeration, pneumatic, compressor, HVAC and engine monitoring systems.