Stationary displays for the flow, dew point, pressure sensors
D300 This is a multifunction measurement instrument for industrial applications. The basic unit consists of a LCD graphics display, 2 relay outputs, USB interface in a panel/wall mountable casing. Through various options D300 can be configured to specific customer requirements. These options include: data recording, RS-485-interface, sensor inputs for our flow and dew point sensors, sensor inputs for process signals (0-1V, 0-10V, 0-20 mA, 4-20mA) and temperature sensors (thermocouples, Pt100, Pt1000).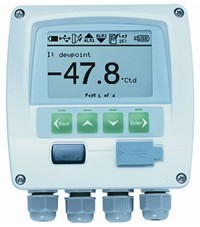 D300 features
Wall or panel mountable
Universal power supply 100…240 VAC
Big graphic display
2 relay (240 VAC, 3A)
4 … 20 mA output
2 sensors connectable
Programmable alarm    
Options:  
Data logger for 1 million measured values  
RS 485 interface for connection of up to 256 DS 300  
2 additional analogue inputs  
Ethernet-terminal
D300 Technical data 

Casing     Size: 118 x 115 x 93 mm
Panel size: 92 x 92
Protection class: IP65
Power supply     100 … 240 VAC, 50-60 Hz, 10 VA
Interface     USB to PC
Alarm output     2 relay, 230 VAC, 3 A
Ambient conditions     0 ... 50  ºC
Sensor inputs  (up to 4 channels)
A:   2 channel SDI:       
H400, H4xx      
C400, C4x0
B:   2 channel analogue:       
0-1V, 0-10V      
0-20 mA, 4-20 mA      
Thermocouples      
Pt100/Pt1000 
Accuracy 1)  
Dew point:         See sensor specs.
Flow:                   See sensor specs
0-20 mA:             0.01 mA
0-10 V:               0.01 V
Pt100: 0.2 ºC
Pt1000:               0.2 ºC
Thermocouple: 0.5 ºC
Analogue outputs:  4-20 mA and pulse signals from sensors accessible at rear connectors
Data logger:     Up to 1 million values
RS-485:     Up to 256 D300 can be connected together and linked to a computer
Following BUS systems can be used: 
Profibus DP Slave
Interbus Slave
Modbus RS 485 Slave
Modbus on TCP
CANopen
DeviceNet
M-Bus (only pulse counter) 
1) Accuracy of sensor not included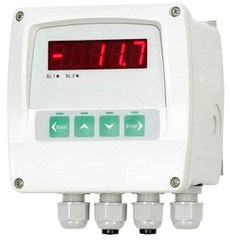 D301 4 digit LED display with relay output, 100…240 VAC, 1 channel

D301 features
Wall mountable
230 VAC, 50/60 Hz or 24 V DC or 110 VAC (optional)
Single line 7 segment LED display
2 relays (250 VAC, 3A)
Alarm settings ex factory or via service kit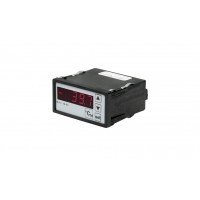 D50 digital meter for panel mounting, 96 x 48 mm, power supply 230 VAC, sensor input for 0(4)...20 mA signal, 2 alarm relays.

D50 Features   
Panel mountable     
230 VAC, 50/60 Hz or 24 V DC or 110 VAC (optional)    
Single line 7 segment LED display    
Alarm indication via LED    
2 x relay output, changeover contact, 250 VAC, max. 3 A
1 sensor connectable    
Alarm settings ex factory or via service kit    
Ideal to mount for dryers