Sigma 605 Portable Breathing Air Analyzer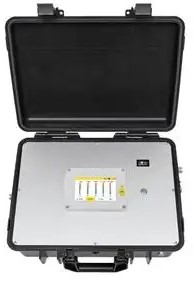 For point-of-use breathing air quality and purity checks
• All-in-one portable breathing air monitoring solution
• Accurate Data of O2, CO, CO2, H2O, Oil Vapor and Pressure
• High-resolution 5" color touch screen
• Ultra-portable and compact design makes it unique
• Powerful PDF breathing air report generator
• USB or optional 4G/LTE interface for data transfer
• Modbus/TCP and Modbus/RTU interface
• Only one gas inlet for all parameters
Sigma 605 Portable Breathing Air Analyzer offers a cutting-edge solution designed to ensure the highest standards of safety and quality in breathing air filling stations and breathing air systems. This state-of-the-art analyzer combines advanced technology with exceptional portability, making it the ideal choice for a wide range of industries and applications. The software-guided measurement makes it easy to use and minimizes the risk of error.

Monitoring of the Relevant Parameters
Equipped with advanced sensors, the 605 measures all essential parameters such as oxygen (O2) levels, carbon dioxide (CO2) levels, carbon monoxide (CO) concentration, dew point and oil vapor. The high precision of the sensors ensures accurate readings, empowering operators to maintain optimal air quality and prevent potential health risks.

Following All International Standards
Sigma 605 Breathing Air Analyzer follows all relevant standards, such as EN 12021. The product pre-sets the threshold of different international standards. The user only needs to select and confirm the underlying standard.

Ultra portable and flexible
One of the key features of the S605 is its compact and lightweight design, allowing for easy transport and operation in various settings. Whether you're in the field, on a job site, or conducting inspections, this portable analyzer provides instant access to crucial information about the air you breathe.

Remote Connection
By integrating a USB port for 4G dongle connection, the S605 can be easily connected to the S4A Software and monitored remotely. This eliminates the need for a Wi-Fi connection. The USB 4G dongle is an optional feature and can be ordered together with the S605 or upgraded later. To use the new feature, a SIM card is required.  

Data Logger with Reporting Function
The integrated data logger allows users to log all measurement data for later export and analysis. This data can be used to create powerful PDF reports directly at the point of use. Besides showing the measurement results, sampling point information, customer and service provider information, the report also evaluates the measurement results according to the selected standard and provides an assessment of the breathing air quality.
This integrated PDF generator makes it ideal for audits and spot checks in breathing air applications.

With its unique compactness, plug and play capability and software-guided measurements,Sigma 605 is the most advanced mobile instrument on the market for getting your breathing air processes under control.